You can not select more than 25 topics
Topics must start with a letter or number, can include dashes ('-') and can be up to 35 characters long.
ReadMe.md
Dell Wyse 5070 Thin Client
Hello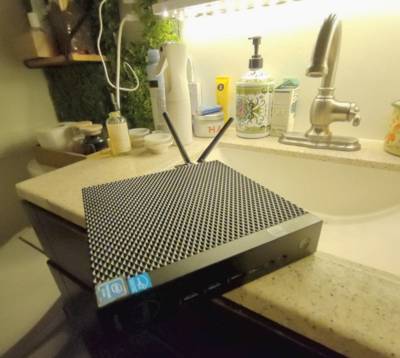 This particular model of computer is really good as a low-power desktop computer or as a server. (Raspberry Pi killer)
Why? Because it's cheap, abundantly avaliable (at least right now in 2023) and with a few cheap upgrades, it doesn't really have any drawbacks and it's quite capable.
Reasons why it's good
Cheap. $35 on Ebay
Passmark score (CPU benchmark score) of ~3000

Quad Core btw
1/2 the score my laptop gets, and 3 to 4 times the score that a Raspberry Pi 4 gets

Upgrade-able to 32GB of RAM
Supports hardware accelerated virtualization (kvm). This means you can run linux virtual machines at full speed like a "cloud" server.
Fanless
Very low power at idle (2 watts measured at the wall with a Kill-a-Watt device)
After upgrading it to have WiFi, 20GB of RAM, 512GB SSD and HDMI video output support, it's still under $100 per device.

You can have 2 of them, for redundancy and failover, for only $200
Problems that it has (and how I solved them)
Typically only comes with 4GB of RAM or 8GB if you are lucky
It only has DisplayPort for video output

😫

solved with $2 DisplayPort to HDMI dongle

It does not come with Wifi Antennas

solved with $2 Wifi Antennas from Ebay

It does not come with a hard drive / operating system
It does not come with a screw to hold the M.2 SSD in place
How to 3D Print the SSD Screw
I dont know what I did wrong but for some reason I was never able to get the size of the SSD screw correct in Blender so that it would be the right size when I export it to STL and slice it with the Prusa Slicer.
Instead I just adjusted the size in the prusa slicer.
So just make sure that each screw is about 9.8mm long in the prusa slicer software before you print it. Depending on your printer and print settings you might have to adjust the size. Good luck and be patient.
For best results select Automatically Generate Supports: Yes and Supports only on build plate: Yes
You will have to clip the supports off with something like wire cutters, x-acto knife, or scissors.